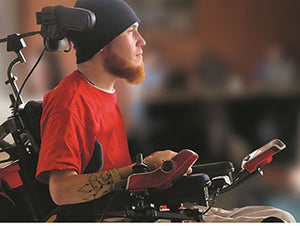 Purchase of this course will provide access to the recorded webinar version of the course below.
Course Code:  WEB0320h-6
0.1 AOTA CEUs/1 Contact Hours

Target Audience:  Licensed/Certified Medical Professional (i.e. PT, OT), Rehab Professional (ATP, SMS, CRTS)

Course Description:   Assessing an end user for power mobility can be an intimidating task. Decisions that are made will have an impact on the individual's quality life, functional mobility, physical well-being, and social interactions. When the end user is not able to utilize a standard joystick, then the task can become even more intimidating. There are many considerations and factors including driving/input method, mounting of driver controls, postural control, power positioning, programming, and environmental access/control. This workshop will review many of the considerations that must be examined when recommending alternative controls. Case specific examples will be utilized to elucidate the often-delicate interplay between alternative control access and complex seating system needs.

Learning Objectives:  
At the conclusion of the course the participant will be able to:
Describe 3 considerations for proportional alternative drive control selection and set up
Describe 3 considerations for digital/switched alternative drive control selection and set up
Describe at least one factor on how tilt and recline can affect access to each drive control option
Pre-requisites:  N/A
Agenda:
Hour 1
Introduction/Key Concepts
Overview Proportional Control Options
Overview of Programming Options for Proportional Controls
Digital/Switch Control Options
Mounting Options/ Programming Considerations for Digital/Switch Controls
Power Positioning Considerations, Tracking and Suspension
Wrap up with Q&A
Course Level:  Beginner / Review
Instructional Methods:  Lecture, Demonstration, Discussion, Brainstorming
AOTA Classification Code:  OT Process – Evaluation, Intervention
Quantum Rehab/Pride Mobility Products Corp. has been approved as an Accredited Provider #1307743 (Valid through 2/28/26) by the International Association for Continuing Education & Training (IACET) 21670 Ridgetop Circle, Suite 170, Sterling, VA 20166: (703) 763-0705.
AOTA Authorized Provider #6865 (Valid through 12/30/23). AOTA does not endorse specific course content, products, or clinical procedures.
This activity is approved by the Texas Board of Physical Therapy Examiners Accredited Provider #2502011TX (Valid 2/28/25) and meets continuing education requirements for physical therapy and physical therapy assistant licensure renewal in Texas.  The assignment of Texas PT CCUs does not imply endorsement of specific course content, products, or clinical procedures by TPTA or TBPTE.
CEU Disclaimer: It is the attendee's responsibility to complete relevant documentation requirements to receive the qualified credit associated with this course. Failure to do so will result in an invalid certificate.