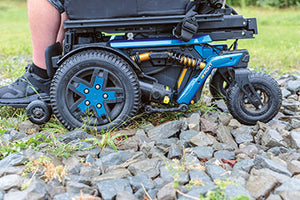 Purchase of this course will provide access to the recorded webinar version of the course below.
Course Code:  CA1119h-1
0.1 AOTA CEUs/1 Contact Hours

Target Audience:  Licensed/Certified Medical Professional (i.e. PT, OT), Rehab Professional (ATP, SMS, CRTS)

Course Description:   Individuals with chronic medical conditions and long-term disabilities who have a permanent need for a wheelchair require a comprehensive, detailed evaluation of their physical, functional and environmental needs to allow clinicians and ATP suppliers to make appropriate Assistive Technology recommendations for a successful outcome. This course will examine the long-held beliefs with regard to the application of power mobility drive wheel configuration, discuss the principles behind those beliefs, and examine the research that supports or disputes them. It will also examine the impact design changes and technology advances have in mitigating the "known" disadvantages of each drive wheel configuration to provide participants with a fresh look at the advantages of each.

Learning Objectives:  
At the conclusion of the course the participant will be able to:
List a minimum of 2 advantages of each drive wheel configuration.
Identify at least 1 design change implemented to mitigate a disadvantage of each drive wheel configuration.
Justify the medical need for suspension for an individual with a neurological condition.
Pre-requisites:  Participants should have some familiarity with and/or participation in seating and wheeled mobility evaluations.  Participants at live events should also have a smart phone in order to participate in surveys.
Agenda:
Hour 1
Introduction, review of drive wheel survey questions and reveal of survey results from previous subject matter expert opinion on the same questions.
Advantages and disadvantages of RWD - and design innovations associated with RWD bases
Advantages and disadvantages of MWD - and design innovations associated with MWD bases
Advantages and disadvantages of FWD - and design innovations associated with FWD based
The application of drive wheel suspension, vibratory dose and impact forces on PWC users
Discussion, questions and answers
Course Level:   Advanced
Instructional Methods:  Lecture, Discussion
AOTA Classification Code:  Domain of OT: Client Factors