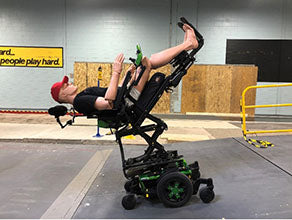 Purchase of this course will provide access to the recorded webinar version of the course below.
Course Code:  WEB0520h-4
0.1 AOTA CEUs/1 Contact Hours

Target Audience:  Licensed/Certified Medical Professional (i.e. PT, OT, Physician, Nurse), Rehab Professional (ATP, SMS, CRTS), Reimbursement & Billing Specialists

Course Description:   This course will help clinicians and supplier ATPs understand the nuances of how power wheelchairs work in order to justify the base recommended for their client. We will review the minimum performance characteristics of each power wheelchair group; consider single vs. multiple power capabilities and limitations; emphasize what a non-expandable and an expandable electronics system is and does, and examine the need to operate power seat functions through the drive input device.

Learning Objectives:  
At the conclusion of the course the participant will be able to:
Identify 5 key characteristics of a Group 3 PWC.
Identify at least 2 capabilities of an expandable electronics system that a non-expandable system cannot do.
Justify the medical need for an individual with disabilities to operate their power seat functions through the joystick.
Pre-requisites:  A working knowledge of power mobility devices is recommended.
Agenda:
Hour 1
Performance characteristics of power wheelchairs in Groups 1, 2, 3 & 4, including information from the technical expert panel that advised CMS prior to establishing the groups.
Power wheelchair basic equipment package and beyond – including single & multiple power options, non-expandable & expandable electronics
Control / operation of power seat functions through the drive input device in an upright vs. a fully tilted and/or reclined position.
Course Level:  All Levels
Instructional Methods:  Lecture, Discussion
AOTA Classification Code:  Occupational Therapy Process:  Evaluation
ADA: If you require ADA accommodations, please contact the Education Department (Education@PrideMobility.com).
Quantum Rehab/Pride Mobility Products Corp. has been approved as an Accredited Provider #1307743 (Valid through 2/28/26) by the International Association for Continuing Education & Training (IACET) 21670 Ridgetop Circle, Suite 170, Sterling, VA 20166: (703) 763-0705.
AOTA Authorized Provider #6865 (Valid through 12/30/23). AOTA does not endorse specific course content, products, or clinical procedures.
This activity is approved by the Texas Board of Physical Therapy Examiners Accredited Provider #2502011TX (Valid 2/28/25) and meets continuing education requirements for physical therapy and physical therapy assistant licensure renewal in Texas.  The assignment of Texas PT CCUs does not imply endorsement of specific course content, products, or clinical procedures by TPTA or TBPTE.
CEU Disclaimer: It is the attendee's responsibility to complete relevant documentation requirements to receive the qualified credit associated with this course. Failure to do so will result in an invalid certificate.