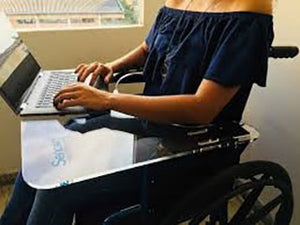 Purchase of this course will provide access to the recorded webinar version of the course below.
Course Code:  WEB0820h-3
0.1 AOTA CEUs/1 Contact Hours
Target Audience:  Licensed/Certified Medical Professional (i.e. PT, OT), Rehab Professional (ATP, SMS, CRTS)

Course Description:   A mobility evaluation is a requirement of Medicare and CMS in the recommendation and documentation process for the delivery of CRT mobility equipment.  This course will give further insight into some of the challenges our clients face with limitations in upper extremity function, as well as some helpful tips and tricks for specifying equipment needs to increase access and function through available options. With a good understanding of the upper extremity limitations that many of our clients face routinely, the multidisciplinary evaluation team will be better suited to effectively document equipment recommendations specific to the client's needs to increase functional independence in the completion of their ADL's through equipment adaptations. We will focus on shoulder, elbow, wrist and hands throughout this course, as well as equipment/seating recommendation strategies and some equipment offerings that may increase client's independence and function outcomes.

Learning Objectives:  
At the conclusion of the course the participant will be able to:
Differentiate 3 different limitations to the upper extremities that effect functional mobility.
Compare manual and power mobility bases as they relate to upper extremity physical requirements of strength, range of motion and fatigue.
Identify a minimum of three common upper extremity positioning supports that may increase functional outcomes.
Pre-requisites:  This is a Beginner Level 1-hour overview of the upper extremities and how to best select and set up complex rehab mobility equipment based on evaluation findings.


Agenda:
Hour 1
Shoulder:

Discuss prevalence of shoulder pain in MWC users
Review proper kinematic push stroke pattern/set up if MWC is selected
RESNA position/PVA
In PWC how to support the shoulder (glenohumeral support; subluxation; maintaining contact with arm rests if weak to now allow falling of ues)- highlight unilink elbow blocks; arm troughs; removable stealth arm tray
Power wheelchair joystick use with shoulder only (3 direction); swing away joystick adjustability for strength;

Elbow:

Discussion on C5 pattern and what having biceps looks like against gravity vs. Gravity eliminated
Using biceps or internal/external rotation with swing away joystick along talk about switch access placement (inside of joystick vs. Outside);
Using a twist switch where accuracy matters less than egg switch etc.
Wrist          

Discuss handrim options for optimal ergonomics if in MWC-wrist positioning on PWC (use of hand paddle etc.);   
Lacking wrist control user may use a static wrist support with stylus etc. (good application for potential use of QL3E) 
Carpal tunnel from MWC propulsion

Hand & Fingers    

Grip/pinch-functional movement patterns/positions; 
Unique set ups of trays etc. For those to drive pwc with limited rom/contractures.; 

Closing, Q&A; Wrap-up
Course Level:  Beginner / Review
Instructional Methods:  Lecture
AOTA Classification Code:  Domain of OT: Client Factors
ADA: If you require ADA accommodations, please contact the Education Department (Education@PrideMobility.com).
Quantum Rehab/Pride Mobility Products Corp. has been approved as an Accredited Provider #1307743 (Valid through 2/28/26) by the International Association for Continuing Education & Training (IACET) 21670 Ridgetop Circle, Suite 170, Sterling, VA 20166: (703) 763-0705.
AOTA Authorized Provider #6865 (Valid through 12/30/23). AOTA does not endorse specific course content, products, or clinical procedures.
This activity is approved by the Texas Board of Physical Therapy Examiners Accredited Provider #2502011TX (Valid 2/28/25) and meets continuing education requirements for physical therapy and physical therapy assistant licensure renewal in Texas.  The assignment of Texas PT CCUs does not imply endorsement of specific course content, products, or clinical procedures by TPTA or TBPTE.
CEU Disclaimer: It is the attendee's responsibility to complete relevant documentation requirements to receive the qualified credit associated with this course. Failure to do so will result in an invalid certificate.