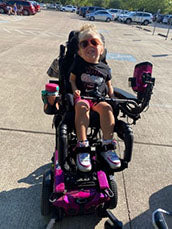 Purchase of this course will provide access to the recorded webinar version of the course below.
0.1 AOTA CEUs/1 Contact Hours
Target Audience:  Licensed/Certified Medical Professional (i.e. PT, OT), Rehab Professional (ATP, SMS, CRTS)

Course Description:   Assessing an end user for power mobility can be an intimidating task. Decisions that are made will have an impact on the individual's quality life, functional mobility, physical well-being, and social interactions. This task can seem even more daunting when it comes to the pediatric end user. Children have the natural desire to move, explore, and learn. Research has shown that there is a strong correlation between self-initiated mobility and the development of visual, cognitive, social, language, and perceptual skills. This course will discuss the characteristics and decision-making process for children with CP, as well as the special considerations on early power mobility intervention. Current and relevant research will be discussed as it relates to assessment, timing, and outcomes when early power mobility is recommended and prescribed for those that demonstrate the needs.


Learning Objectives:  
At the conclusion of the course the participant will be able to:
Differentiate the unique considerations that are involved when assessing children with CP for the appropriate mobility device.
Distinguish 2 motor/functional presentations that would make power mobility assessment and trial most appropriate.
Identify 2 positive outcomes supported in the evidence for early mobility intervention specific to children with CP.
Pre-requisites:  None
Agenda:
Hour 1
Introduction, review of Gross Motor Function Classification System, literature review of early power mobility considerations and outcomes for those with CP
Power Mobility Case Study Review and Parent Feedback
Course Level:  Beginner / Review
Instructional Methods:  Lecture, Discussion
AOTA Classification Code:  OT Service Delivery & Foundational Knowledge
ADA: If you require ADA accommodations, please contact the Education Department (Education@PrideMobility.com).
Quantum Rehab/Pride Mobility Products Corp. has been approved as an Accredited Provider #1307743 (Valid through 2/28/26) by the International Association for Continuing Education & Training (IACET) 21670 Ridgetop Circle, Suite 170, Sterling, VA 20166: (703) 763-0705.
AOTA Authorized Provider #6865 (Valid through 12/30/23). AOTA does not endorse specific course content, products, or clinical procedures.
This activity is approved by the Texas Board of Physical Therapy Examiners Accredited Provider #2502011TX (Valid 2/28/25) and meets continuing education requirements for physical therapy and physical therapy assistant licensure renewal in Texas.  The assignment of Texas PT CCUs does not imply endorsement of specific course content, products, or clinical procedures by TPTA or TBPTE.
CEU Disclaimer: It is the attendee's responsibility to complete relevant documentation requirements to receive the qualified credit associated with this course. Failure to do so will result in an invalid certificate.