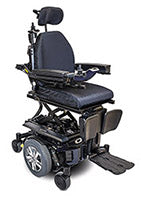 Purchase of this course will provide access to the recorded webinar version of the course below.
0.1 AOTA CEUs/1 Contact Hours

Target Audience:  Licensed/Certified Medical Professional (i.e. PT, OT, Physician, Nurse), Rehab Professional (ATP, SMS, CRTS), Reimbursement & Billing Specialists

Course Materials/Equipment:  Any course material/equipment will be provided to you onsite.

Course Description:   More than one third of the population of the United States is considered obese. Obesity-related medical conditions such as heart disease, diabetes, and stroke all lead to various levels of mobility impairment which leads the bariatric consumer seeking mobility aides and equipment such as wheeled mobility as an alternative mobility approach to ambulation. Along with the secondary medical complications listed above, traumatic injuries and neuromuscular disorders such as spinal cord injury, brain injury, muscular dystrophies, etc. that also present requiring equipment with higher weight capacities, pose multiple issues for the evaluator when going through the patient/product match. This course will discuss commonalties of the bariatric wheeled mobility user while distinguishing the unique seating and positioning challenges that presents with the bariatric client.

Learning Objectives:  
At the conclusion of the course the participant will be able to:
Distinguish the unique challenges that bariatric clients pose when recommending a positioning support system.
Apply 3 possible seating and mobility interventions based on evaluation findings.
Identify at least 2 mobility bases for the bariatric client.
Pre-requisites:  Participants should have some familiarity with and/or participation in seating and wheeled mobility evaluations.
Agenda:
Hour 1

Introduction: Defining obesity, Body Shapes, Secondary Complications
Bariatric Considerations for seating and mobility evaluation: What's is different with this Population?
Bariatric specific measurements
Bariatric Mobility Considerations
Course Level:   Intermediate
Instructional Methods:  Lecture, Discussion
AOTA Classification Code:  Occupational Therapy Process: Evaluation and Intervention
Quantum Rehab/Pride Mobility Products Corp. has been approved as an Accredited Provider #1307743 (Valid through 2/28/26) by the International Association for Continuing Education & Training (IACET) 21670 Ridgetop Circle, Suite 170, Sterling, VA 20166: (703) 763-0705.
AOTA Authorized Provider #6865 (Valid through 12/30/23). AOTA does not endorse specific course content, products, or clinical procedures.
This activity is approved by the Texas Board of Physical Therapy Examiners Accredited Provider #2502011TX (Valid 2/28/25) and meets continuing education requirements for physical therapy and physical therapy assistant licensure renewal in Texas.  The assignment of Texas PT CCUs does not imply endorsement of specific course content, products, or clinical procedures by TPTA or TBPTE.
CEU Disclaimer: It is the attendee's responsibility to complete relevant documentation requirements to receive the qualified credit associated with this course. Failure to do so will result in an invalid certificate.