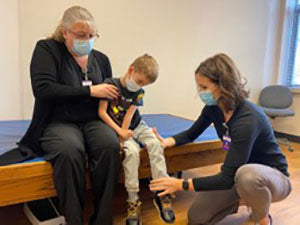 Purchase of this course will provide access to the recorded webinar version of the course below.
Course Code:  WEB1220i-1
0.15 AOTA CEUs/1.5 Contact Hours
Target Audience:  Licensed/Certified Medical Professional (i.e. PT, OT), Rehab Professional (ATP, SMS, CRTS), Reimbursement & Billing Specialists

Course Description:   Wheeled mobility devices are considered one of the most important Assistive Technology (AT) Devices. The final choice of wheelchair and seating system often involves a compromise between meeting the client's goals, environmental and reimbursement constraints, and the best choice of technology. Clinicians and ATP Suppliers bring a very specialized and unique, but complimentary set of skills to the evaluation process. Although these skills and responsibilities are different between the therapist and supplier, it is critical to the overall process, that each professional understand the other's responsibilities and skill sets. This class will take a multidisciplinary look, based on the RESNA Wheelchair Service Provision Guide, to provide each the supplier and clinician with the knowledge of the seating and wheeled mobility evaluation process including options for gauging client specific outcomes. This Part 2 course will focus most heavily on the recommendation through post-delivery functions of the multidisciplinary team to better define expectations and communications for outcome measures.

Learning Objectives:  
At the conclusion of the course the participant will be able to:
Distinguish the role of the evaluating clinician in the equipment selection and trial portion of the wheelchair provision process.
Differentiate 3 key considerations to be addressed during the Fitting, Training, and Delivery process of the service provision guide.
Discuss the importance of outcome measures in the procurement process of seating and wheeled mobility technology.
Pre-requisites:  Participants should have some familiarity with and/or participation in seating and wheeled mobility evaluations.
Agenda:
Hour 1 & 2 (90 Minutes)
Introduction
EQUIPMENT RECOMMENTATION AND SELECTION

Equipment Trial/Equipment Simulation
Client Funding Education and Exploration
Documentation

FUNDING AND PROCUREMENT

Pre-Determination
Ordering and Receiving Equipment

PRODUCT PREPARATION
FITTING, TRAINING AND DELIVERY

Fitting
Training and Delivery

FOLLOW-UP MAINTENANCE AND REPAIR
OUTCOME MEASUREMENT
Wrap up and Q&A
Course Level:   Intermediate
Instructional Methods:  Lecture, Discussion, Demonstration
AOTA Classification Code:  OT Service Delivery, Foundational Knowledge
ADA: If you require ADA accommodations, please contact the Education Department (Education@PrideMobility.com).
Quantum Rehab/Pride Mobility Products Corp. has been approved as an Accredited Provider #1307743 (Valid through 2/28/26) by the International Association for Continuing Education & Training (IACET) 21670 Ridgetop Circle, Suite 170, Sterling, VA 20166: (703) 763-0705.
AOTA Authorized Provider #6865 (Valid through 12/30/23). AOTA does not endorse specific course content, products, or clinical procedures.
This activity is approved by the Texas Board of Physical Therapy Examiners Accredited Provider #2502011TX (Valid 2/28/25) and meets continuing education requirements for physical therapy and physical therapy assistant licensure renewal in Texas.  The assignment of Texas PT CCUs does not imply endorsement of specific course content, products, or clinical procedures by TPTA or TBPTE.
CEU Disclaimer: It is the attendee's responsibility to complete relevant documentation requirements to receive the qualified credit associated with this course. Failure to do so will result in an invalid certificate.