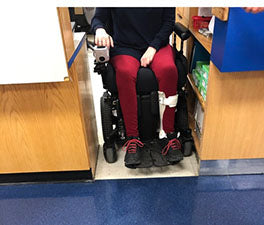 Purchase of this course will provide access to the recorded webinar version of the course below.
0.1 AOTA CEUs/1 Contact Hours

Target Audience:  Licensed/Certified Medical Professional (i.e. PT, OT, Physician, Nurse), Rehab Professional (ATP, SMS, CRTS), Reimbursement & Billing Specialists, DME Provider Staff (Sales, Marketing, Management)

Course Description:   A home assessment is a requirement of Medicare and CMS in the mobility evaluation and recommendation process.  This course will give further insight into some of the challenges our clients face within their environments of anticipated use, as well as some helpful tips and tricks for specifying equipment needs to increase access function through available options. With a good understanding of the environmental challenges that each of our clients face routinely, the multidisciplinary evaluation team will be better suited to effectively document equipment recommendations specific to the client's needs to increase functional independence in all of their ADL's through physical environmental access. We will focus on typical rooms and access limitations in the home throughout this course, as most of these options will aid in access to environments outside of the home as well.

Learning Objectives:  
At the conclusion of the course the participant will be able to:
Recognize Medicare's documentation requirements when it comes to recording of the Home Assessment
Identify 3 environmental factors that may limit an end-user's independence in their home.
Internalize the benefits of an in-depth home assessment as it pertains to the CRT equipment recommendations.
Pre-requisites:  This is a beginner level, one-hour overview of the home assessment requirements as well as some focus points to ensure proper outcomes.

Agenda:
Hour 1
A how to guide in using specific seating and wheeled configuration options to enhance an end-user's ability to function with utmost independence in their home.
Course Level:  Beginner / Review
Instructional Methods:  Lecture, Discussion
AOTA Classification Code:  Occupational Therapy Process:  Evaluation