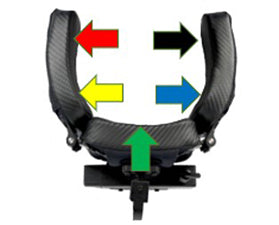 Purchase of this course will provide access to the recorded webinar version of the course below.
Course Code:  WEB0520h-2
0.1 AOTA CEUs/1 Contact Hours

Target Audience:  Licensed/Certified Medical Professional (i.e. PT, OT), Rehab Professional (ATP, SMS, CRTS)

Course Description:   Head array controls are one of the most common alternative access methods for controlling a power chair. There are several conditions or injuries that lead to impairments affecting the use of a person's extremities, which may cause the limited ability to utilize joystick type controls. This often leads to the use of head controls for alternative access.  This course will introduce the participant to head array controls and then take a closer look at the setup, programming, and advancements that can be made to maximize an end user's independence and function.

Learning Objectives:  
At the conclusion of the course the participant will be able to:
Apply the hierarchy of drive controls to determine whether Head Array Controls may be a viable option for the end user.
Explain 2 programming features available for Head Array drive controls that can increase independence and maximize function.
Discuss 2 options for controlling power seating functions when utilizing Head Array control devices.
Pre-requisites:  None
Agenda:
Hour 1
Introduction- Hierarchy of Drive Controls and Switch Types
Defining Head array and basic use
Basic to Advanced Head Array Use options
Q/A
Course Level:  Beginner / Review
Instructional Methods:  Lecture, Discussion
AOTA Classification Code:  Occupational Therapy Process:  Evaluation