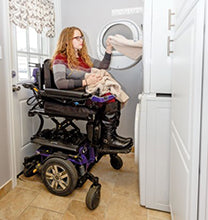 Purchase of this course will provide access to the recorded webinar version of the course below.
0.1 AOTA CEUs/1 Contact Hours

Target Audience:  Licensed/Certified Medical Professional (i.e. PT, OT), Rehab Professional (ATP, SMS, CRTS)

Course Description:   Individuals with chronic medical conditions and long-term disabilities who have a permanent need for a wheelchair require a comprehensive, detailed evaluation of their physical, functional and environmental needs to allow clinicians and ATP suppliers to make appropriate Assistive Technology recommendations for a successful outcome.

This course will discuss the skilled professional services provided by the clinical community in the medical model of wheelchair service delivery, review good medical record documentation principles and discuss the correct CPT codes to bill for the services rendered.


Learning Objectives:  
At the conclusion of the course the participant will be able to:
List at least 2 primary CPT codes used for billing seating & wheeled mobility AT services.
Identify at least 2 CPT code billing restrictions for same day seating & wheeled mobility evaluation services.
Apply traditional SOAP note documentation principles in defense of the skilled services rendered for the initial evaluation; trial and simulation; delivery/final fit and check out; and wheelchair skills training.
Pre-requisites:  Participants should have familiarity with and/or participation in seating & wheeled mobility evaluations.
Agenda:
Hour 1
CPT codes for Physical and Occupational Therapists, timed vs. un-timed codes, applicability of traditional CPT code descriptions for use with seating and wheeled mobility evaluations and CPT code billing restrictions.
Medical documentation principles, use of tools to capture the details of the encounter and defensibility of the skilled professional services rendered.
Course Level:  Beginner / Review
Instructional Methods:  Lecture, Discussion
AOTA Classification Code:  Professional Issues:  Administration & Management
ADA: If you require ADA accommodations, please contact the Education Department (Education@PrideMobility.com).
Quantum Rehab/Pride Mobility Products Corp. has been approved as an Accredited Provider #1307743 (Valid through 2/28/26) by the International Association for Continuing Education & Training (IACET) 21670 Ridgetop Circle, Suite 170, Sterling, VA 20166: (703) 763-0705.
AOTA Authorized Provider #6865 (Valid through 12/30/23). AOTA does not endorse specific course content, products, or clinical procedures.
This activity is approved by the Texas Board of Physical Therapy Examiners Accredited Provider #2502011TX (Valid 2/28/25) and meets continuing education requirements for physical therapy and physical therapy assistant licensure renewal in Texas.  The assignment of Texas PT CCUs does not imply endorsement of specific course content, products, or clinical procedures by TPTA or TBPTE.
CEU Disclaimer: It is the attendee's responsibility to complete relevant documentation requirements to receive the qualified credit associated with this course. Failure to do so will result in an invalid certificate.